Running a website in 2021 is as easy as pie. Having so many options at the disposal, it's easy to build a high-quality website even for an absolute web-novice. But what is the best CMS to use in 2021?
The most direct and uncomplicated way for constructing a website is choosing a CMS platform (content management system). In a nutshell, CMS is a piece of software that helps manage and change content without the need to code or do any other technical manipulations. Thanks to its drag-and-drop functionality one can easily add, remove or optimize a web page.
In this article, we collect the best CMS software which are supposed to be on top in 2021. Actually, there's no ideal CMS solution as each has its weak sides, but according to users' feedback and some statistical data, we managed to highlight the list of 10 best CMS platforms worth attention in the 2k21 year. 
10 Best CMS for Websites in 2021
Before we start the parade of the world's best CMSs, I want to emphasize that they are described in a free order and have nothing to do with the number of traffic they get monthly. These are just users' favourites. 
Drupal
Drupal is one of the best CMS systems and the most secure CMS on the market. It is used as a back-end framework for about 3% of all web sites worldwide starting from personal blogs to corporate, political, and even government sites. It is also used for knowledge management and business collaboration. 
What's more, Drupal has a large community of developers contributors, who work to make Drupal better for future web technology. The main principle of Drupal is its modularity. Modules increase its functionality, and themes allow to customize the content outlook. These components improve the core abilities of Drupal. Also, Drupal is one of the best hosted CMS because of its security and stability. 
Here are the best Drupal features: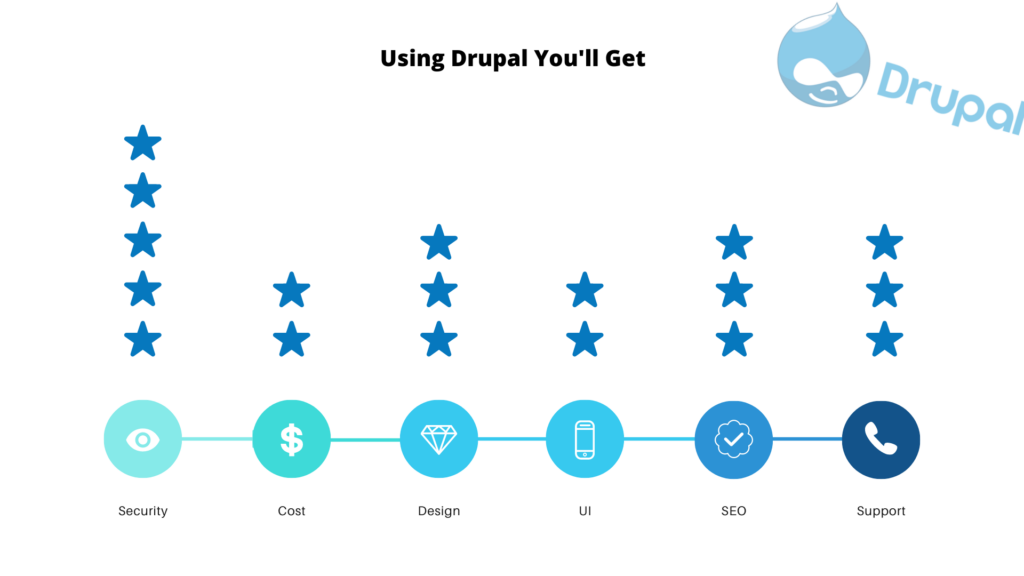 Language – PHP, using Symfony
Type – Content management framework, content management system, blog software
Operating System – Unix-like, Windows
Best Hosting Provider – SiteGround
Joomla
Joomla is one of the best free CMS that offers the most straightforward solutions for making and updating websites for all, starting from the newbies to hardcore IT professionals. Many factors, including ease-of-use and extensibility, have made Joomla one of the best modern CMS software available. Most of all, Joomla is an open-source solution that is freely available to everyone.
Having a large support community, Joomla gives a great chance to improve business building websites and applications. Some users claim that having tried different CMS options, Joomla turned out to be the best CMS for a website.
Here are the top Joomla Features: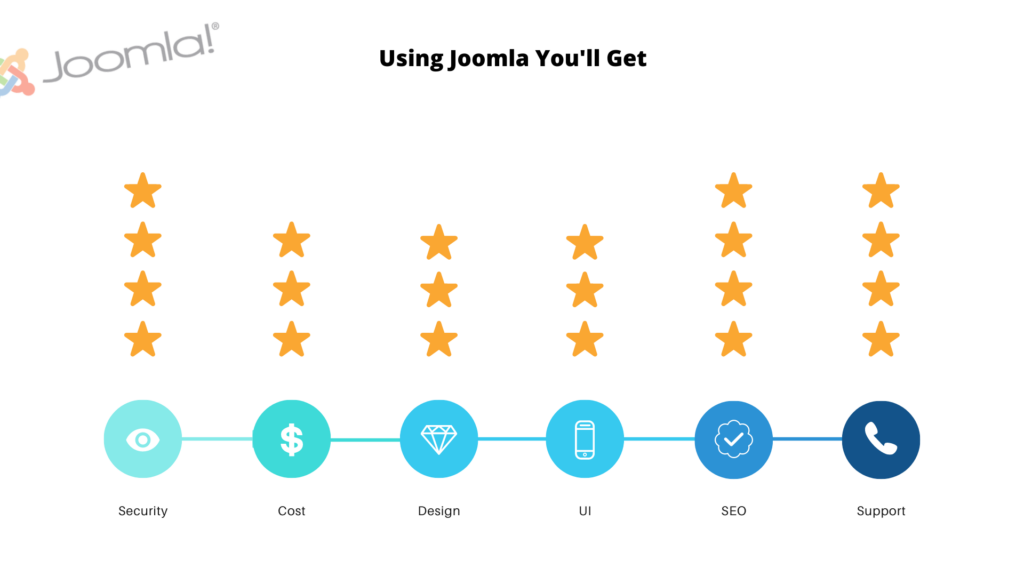 Language – PHP
Type – Content management framework, Content management system
Operating System – Unix-like, Windows, Linux
Best Hosting Provider – Bluehost
WordPress
At its core, WordPress is the simplest, most popular way to create one's own website or blog. WordPress is the world's most popular tool for creating web projects. This CMS is capable of producing any style of website, from a simple blog to a full-featured business website and because of this, WordPress can claim to be the best CMS of all time.
WordPress can be a perfect tool, even for creating an online shop. This platform gathered the best CMS options offered on the market and continually grows in its popularity.
WordPress is one of the best light CMS for both freshers and experts as well. By the way, this very platform powers almost 40% of all websites existing on the web. Guess this number speaks volumes, and that's why WordPress is among 10 best CMS systems.
Here are the greatest WordPress features: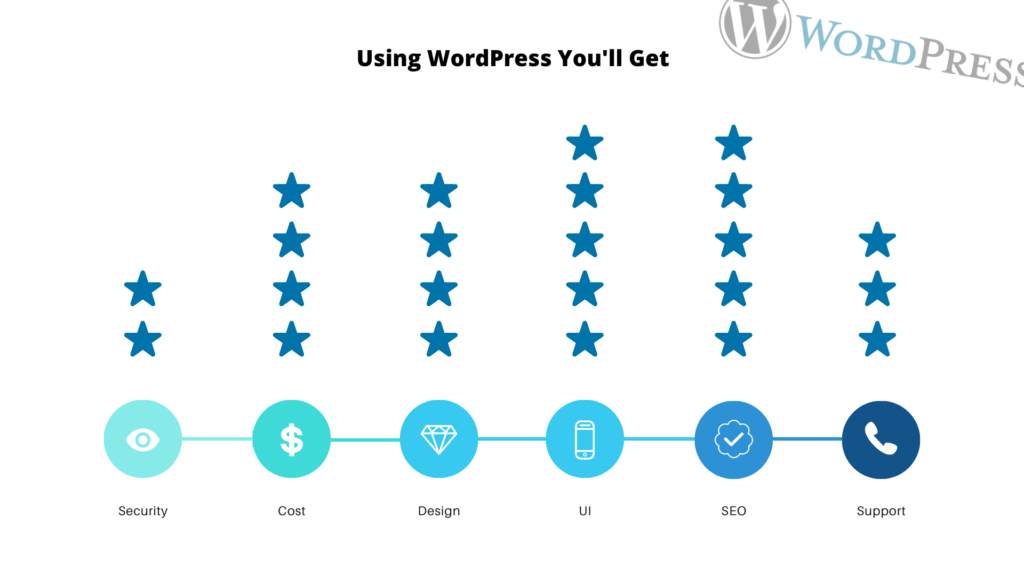 Language – PHP
Type – Blog software, content management system, content management framework
Operating System – Unix-like, Windows, Linux
Best Hosting Provider – SiteGround
Wanna observe the clash of three CMS titans: Joomla vs WordPress vs Drupal? Follow the article – https://aisite.ai/blog/wordpress-joomla-drupal-one-seo-successful/
Squarespace
Squarespace is a one-step website building tool. It's all available online and lets one create a functional website from scratch. It also gives the complete package needed to launch a fully operational website with. Squarespace is used by some of the world's biggest brands, such as Tony Hawk, Pixar, Lyft, and others. In total, it is said that Squarespace CMS has over 1 million customers. 
So, what one gets while using Squarespace, one of the best CMS solutions for 2021?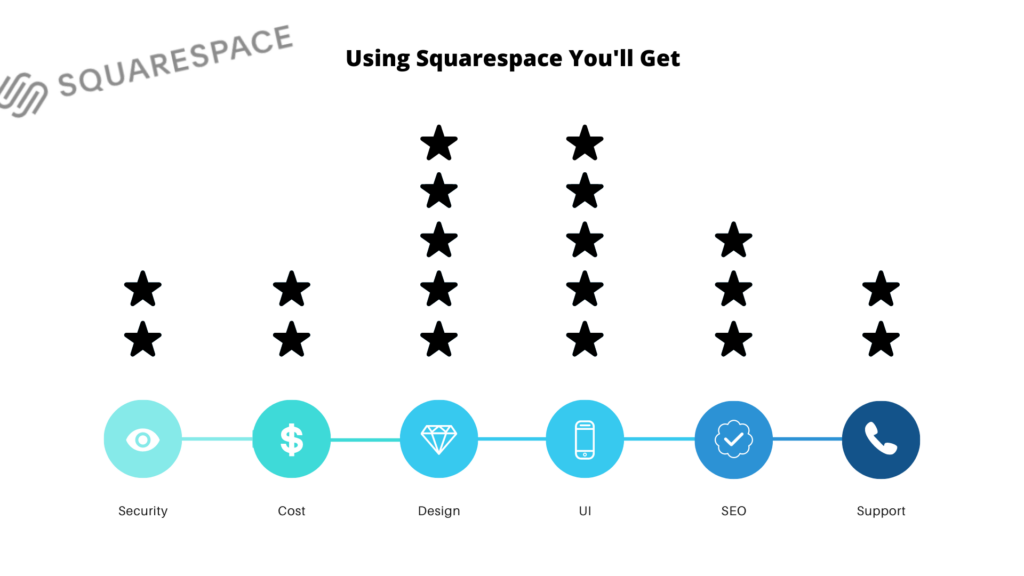 Language – CSS
Type – SaaS-based hosting platform
Operating System – Web browser
Best Hosting Provider – inbuilt to Squarespace
TYPO3
TYPO3 has its own benefits, like most other CMS platforms, and TYPO3's modularity is one of the key reasons for its success. It enables users to create websites with a lot of content, such as a news website, a shopping portal, without dealing with the real complexities behind the scenes. In addition, TYPO3 also allows many extensions to be added to extend a website's functionality with a range of useful multimedia features, such as photo galleries and much more.
Is TYPO3 the best CMS to use? TYPO3 is a competent content management system that has been built and continually improved to meet the increasing requirements of web sites and internet and intranet communication. So definitely, it's worth users' attention. 
Overall, TYPO3 offers: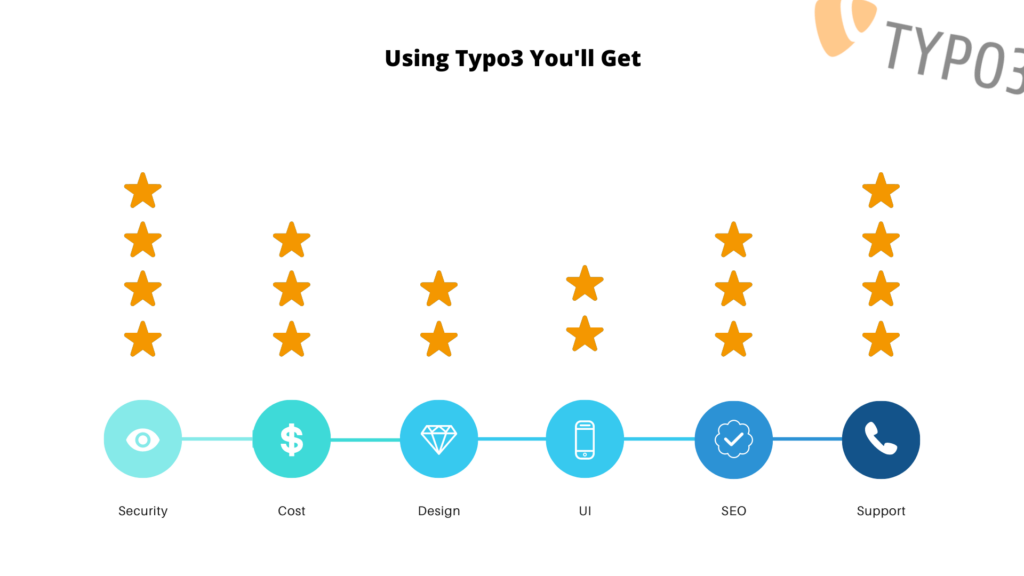 Language – PHP, SQL, JavaScript
Type – Content management framework, Content management system
Operating System – Windows, Linux
Best Hosting Provider – A2 Hosting
Blogger
Being operated by Google, Blogger is a cute place to quickly start a blog. The reasons for the Blogger's presence in the list of best CMS are concealed in the 5 to 10 minutes of blog formation and further maintenance of this website. (The Blogger interface is very easy to use and requires no special knowledge or skills). 
Adding media and its editing is nothing special and quite plain here. Because of its connection with Google, Blogger allows launching Adwords/Adsense campaigns that could bring some blogging cash or track blog's analytics. It could be lucrative for bloggers. 
Btw, according to trends, in 2021 blogging might become one of the most popular jobs, and choosing a suitable platform for running a blog on, is quite an important task.
Having Blogspot (Blogger) website, you can get: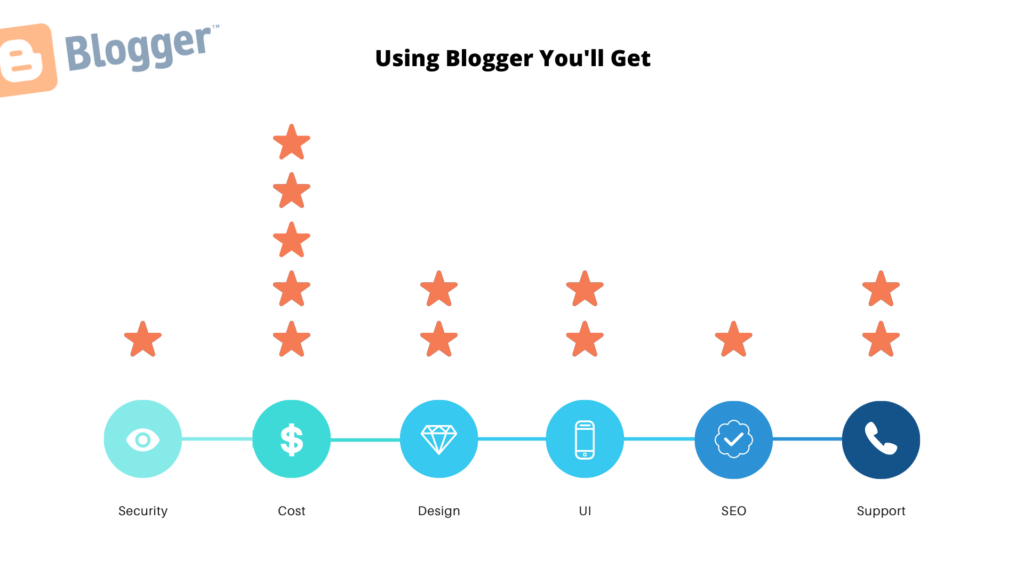 Language – Python
Type – Blog host
Operating System – Windows, Linux, Android and iOS
Best Hosting Provider – inbuilt to Blogger
WiX
Another DIY drag-and-drop website builder is WiX, which makes creating a website fast and painless process. 
WiX is a popular builder of websites that now hosts over 160 million websites, a massive proof to be among the best CMS systems, don't you think? Thanks to its low cost (one can even launch a Wix site for free) and easy to use drag-and-drop interface, it is loved by small businesses.
WiX is perfect for small companies and start-ups who are looking for the first time to move into the web and want to create their own website. With hundreds of different starter templates available, anyone can launch a platform in no time at all, from restaurants to tradespeople. 
At first sight, WiX might seem to be an ideal CMS, but have a look at what it also offers: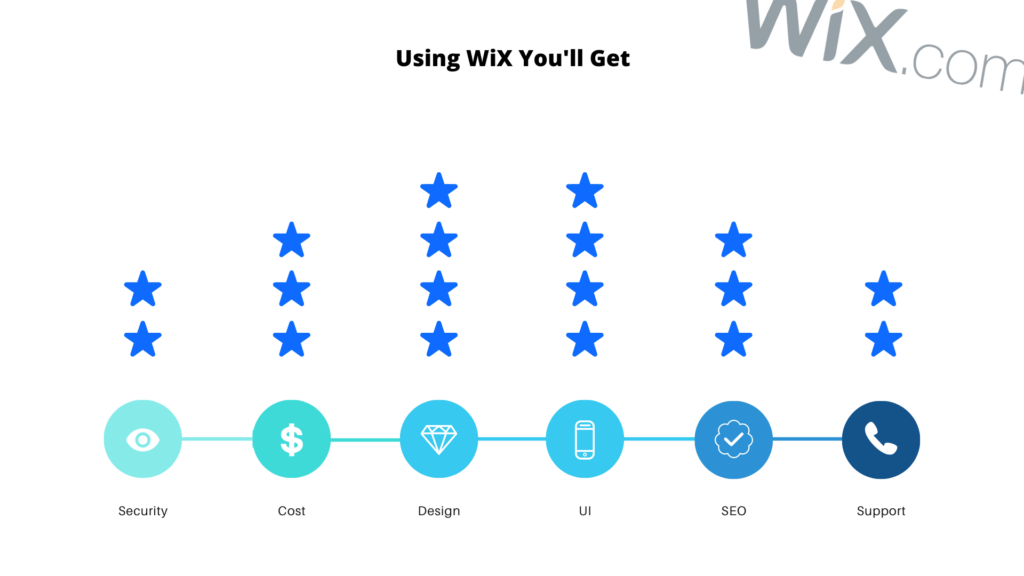 Language – C++, C#
Type – Software development tools
Operating System – Windows
Best Hosting Provider – inbuilt to WiX
Weebly
Weebly is also listed among the best CMS systems for 2021. That's because Weebly is an incredibly convenient and user-friendly website designer, providing its greatest value. Those without familiarity with the platform and who are not tech-savvy should be able to master Weebly quite quickly. One can easily drag and drop content, and Weebly offers several pre-designed templates for users convenience if they are unsure where to start with website design. Plus, flipping template designs is hassle-free if someone changes their mind.
When it comes to Weebly's market share, it's used by 0.3% of all websites. Besides, Weebly features are: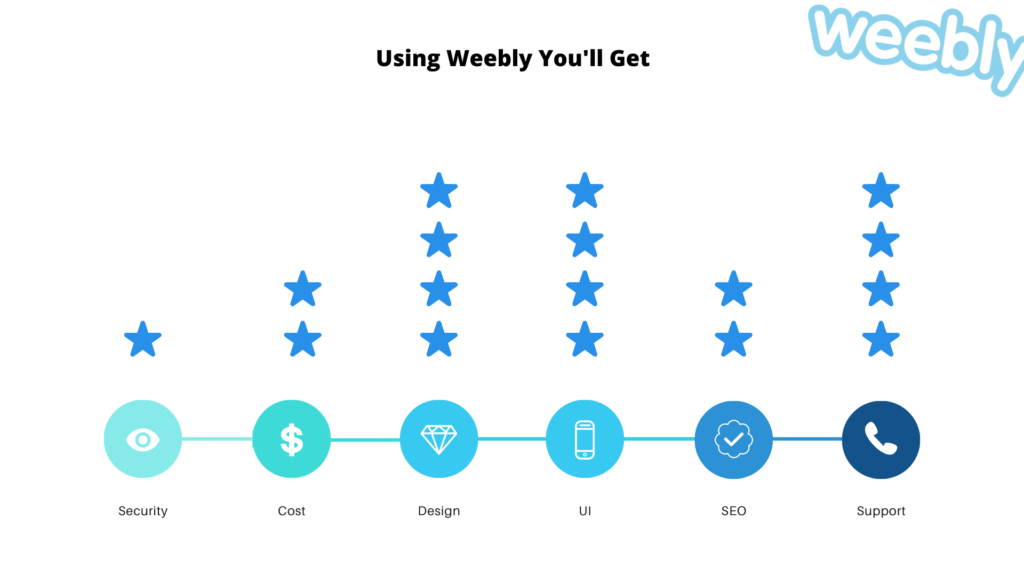 Language – PHP and JavaScript
Type – Web hosting service
Operating System – Web browser (OS agnostic), Windows 10
Best Hosting Provider – inbuilt to Weebly
Jimdo
Jimdo is an online website builder with WYSIWYG (what you see is what you get) approach that requires a few clicks to create professional-looking websites. 
It is a website builder that encompasses ease, comfort, affordability and an intuitive approach to web design. The framework allows various types of web projects to be started (including online profiles, landing pages, web stores, company websites, etc.) and can be used by newbies and web design pros alike. Its high-end web design approach based on AI is the undeniable advantage of the platform, which simplifies the process of web design for everyone. Probably, because of that, Jimdo is considered to be one of the best looking CMS.
Jimdo's functions also include: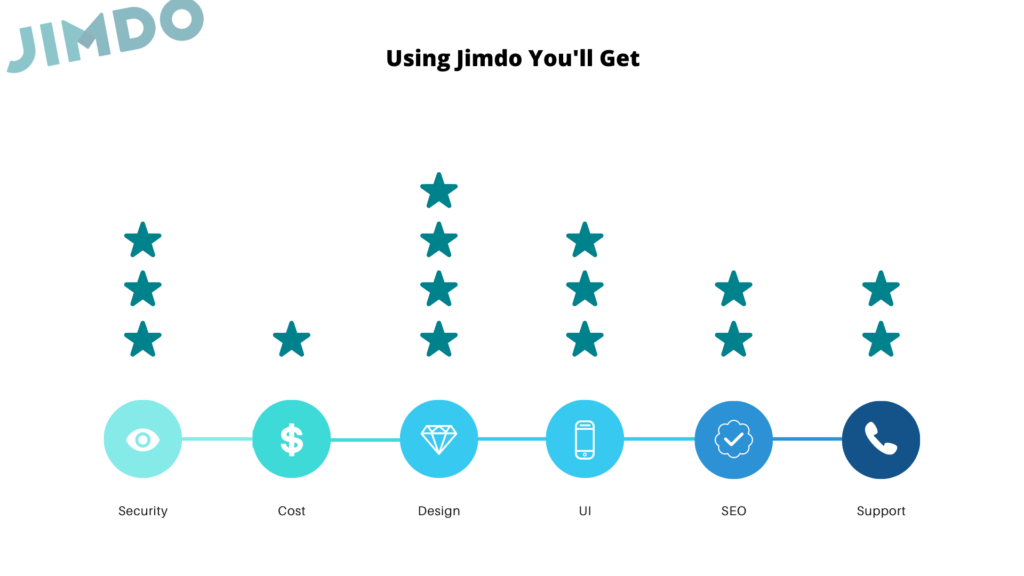 Language – HTML, CSS, or Javascript
Type – Website Builder and All-In-One Hosting Solution
Operating System – Webware
Best Hosting Provider – inbuilt to Jimdo
HubSpot
Basically, the HubSpot Content Management System picks up the conventional CMS infrastructure and has supercharged it to go far beyond just content management by incorporating the HubSpot CRM, marketing, distribution, and customer service tools. 
HubSpot's CMS is called a COS, which stands for content optimization system. The main difference between a COS and a conventional CMS is that, as opposed to just a website tool, HubSpot provides an all-in-one marketing solution (including automation, email marketing, social media management, and so on).
Shortly speaking, HubSpot is one of the best web CMS that takes the pain out of maintaining a website so that one can return to concentrating on the customer experience they want to offer.
Here's what HubSpot CMS is all about: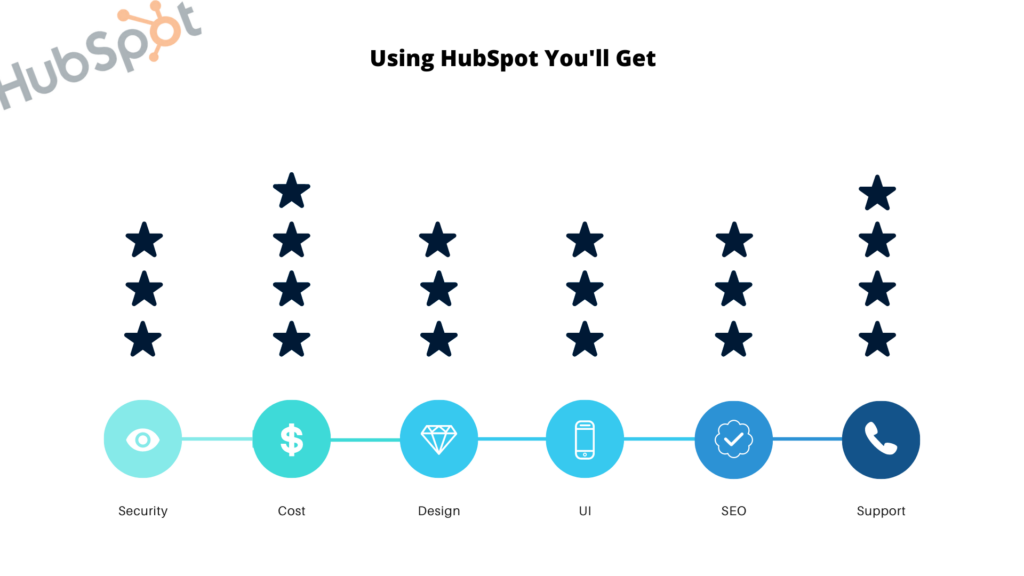 Language – Java
Type – Content Optimization System
Operating System – Windows-supported browsers, Mac-supported browsers
Best Hosting Provider – inbuilt to HubSpot
Summing Up – Best CMS Features:
The best CMS for website design are considered WordPress and Squarespace.
Best free CMS are Weebly and WiX.
Best CMS for UI is Hubspot.  
Undoubtedly, the best secure CMS becomes Drupal. 
Answering the question which CMS is best for SEO – WordPress and Joomla are the winners. 
And finally, the best CMS for the database is supposed to be TYPO3. 
So, What Is the Best CMS for 2021?
There are a few CMS solutions that will be on top in 2021 because any website needs its own functionality and options. Based on the topic and aim of the web project, choose one of the above-listed CMS solutions and be sure that your website will be noticed. Don't forget that selecting a 'home' for the site is only half of the job needed to be done. Constant improvement, searching for needed features and posting useful content is an inevitable part of a website running. 
In case, you need to change the current CMS platform in favour of one of the 10 best CMS, don't hurry up to start everything from scratch. aisite offers the automated content migration along with Design Customization service to save your precious time and preserve all the data you've already created.
Start with Free Demo migration to see how the automated move works and to preview the possible migration result. We cherish your time and are ready to perform any type of custom migration. Just let us know your needs.
What is the best CMS? – The one you are comfortable to work with!